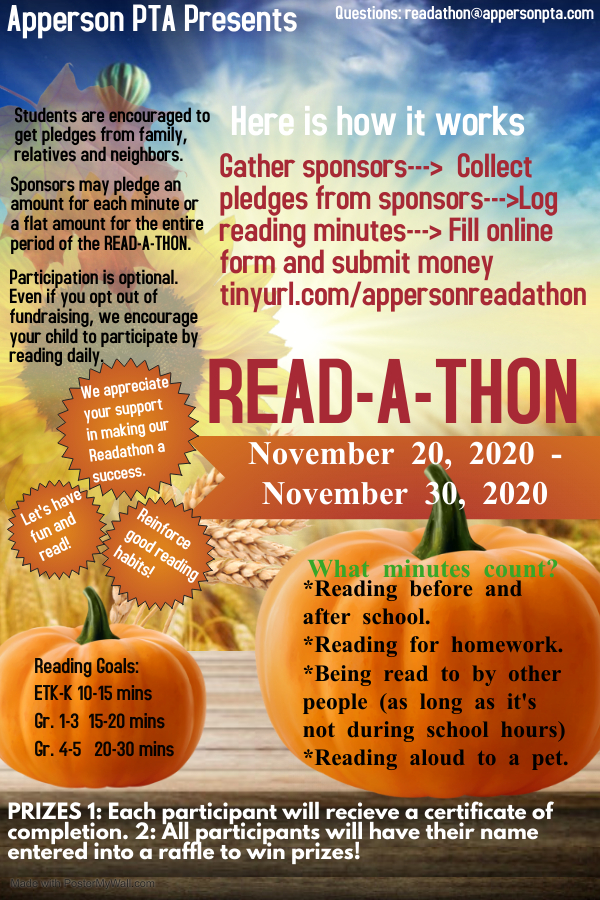 The 6th Annual Apperson PTA Read-A-Thon begins today! Go to www.appersonpta.com/readathon for all of the info. You can download a Pledge Form and Reading Tracker here:
Even if you choose not to collect pledges, you can still participate by reading every day through November 30! All participants, regardless of the amount of donations collected, will be entered to win some amazing raffle prizes! So let's read, read, read!
If you would like to help the Apperson PTA in our fundraising efforts, please consider asking friends and family to sponsor your student, or sponsor them yourself! Any donation amount is appreciated. Donations can be made online with a debit/credit card at www.appersonpta.com/readathon-donation All contributions may be tax deductible. Thank you for your generous support.
When the Read-a-Thon ends, don't forget to submit your TOTAL MINUTES READ (no later than December 2) at www.tinyurl.com/appersonreadathon in order to be eligible for the raffle prizes!
Questions? Contact us at readathon@appersonpta.com. Happy Reading!