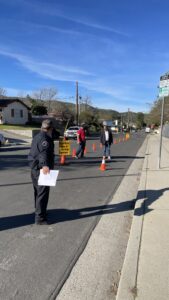 Great News!
Apperson launched the Safety Valet Program on Tuesday Feb. 21 beginning at 7:30 a.m. and every morning thereafter.  The valet program will run on Day Street from 7:30 to 8:00 a.m.
Volunteers form the core of the Safety Valet Program and make sure that it runs smoothly and safely during morning drop off.  The Valet Program channels drivers through a queue of traffic cones to drop off students while the safety valets assist students to safely exit the car. Parents dropping off their kids do not need to exit their vehicle in the drop off area thus improving traffic flow and student safety.
All parents using the valet program can help make it a safe experience for all by adhering to the following protocols:
Leaving enough time to calmly and safely drop off all students
Paying attention to their surroundings at all times, including traffic signs, pedestrians and other vehicles
Entering the valet drop off zone slowly
Making a complete stop so that students can exit cars safely
Making sure that students have all belongings gathered and ready to exit the car
Staying in the car.  Only students exit the car. 
Instructing all students to exit through the passenger's side of the car only
Avoiding making any U-turns in any designated school zone
Valet Volunteers will
Open car doors
Greet children
Direct drivers to pull forward after each child has safely exited the vehicle
Encourage continuous flow of traffic in and around the Safety Valet drop off area
We need all parents to remember that the safety valets are volunteers and are there for the safety of all students.  We implore all parents to treat the valets with respect and dignity.
One last thing: we still need more volunteers.
Parents may submit their name to become a volunteer by filling out a Parent Valet Sign-Up form at the following link: https://forms.gle/p8AemhaqzAtBiTP77
Thank you in advance for your cooperation and support. 
Safety Committee