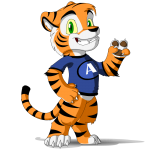 5th Annual
Apperson Elementary School
Jog-A-Thon Fundraiser
Friday, Feb. 22, 2019
The 5th Annual Apperson Jog-A-Thon is almost here! Here are a few reminders for our Apperson families:
Collect donations – we accept cash, checks payable to Apperson PTA, and credit card donations online.  Check the Jog-A-Thon page (www.appersonpta.com/jog-a-thon) for additional Collection sheets and an email template that you can send to family and friends. The Apperson PTA is a 501(c)(3) non-profit organization and your donations may be tax deductible.
Turn in the Volunteer Sign-Up slip if you are available to help out on Feb. 22.  We will need parents to cheer on our students, tally laps, hand out water, etc.
Turn in all donations on or before Feb. 22.  This is a FUN event and every student must turn in a SIGNED PERMISSION SLIP in order to participate with their class.  Even if you did not collect donations, please sign and return the pledge form/permission slip.
Remember, all students that participate will receive a participation TIGER TAG!  The student who raises the most money and the student who runs the most laps from each class will be presented with an exclusive Tiger Tag and will be announced at the Morning Assembly!