National PTA Reflections Art Program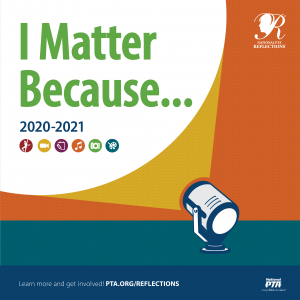 2020-2021 Theme : I Matter Because…
Reflections is the annual PTA Art Contest.
Explore the Arts!  Participate in PTA Reflections!
Reflect on the theme. Create an original work. Be recognized.
Submit the Reflections Student Entry Form and Artwork here: www.tinyurl.com/AppersonReflections
Apperson Student Packet – www.tinyurl.com/reflectionsstudentpacket
Additional Information- Rules by Category
REFLECTIONS: IT'S ALL ABOUT THE ARTS!
PTA's national Reflections Art Program has brought the arts to life for more than 10 million students since 1969. And California State PTA and its members, families and kids are on the forefront of this amazing program, which increases community awareness of the importance of arts in education.
Reflections encourages students of all ages to:
Unleash creative talents and be inspired
Express themselves imaginatively in their artwork
Experience the fun and joy of making art
Tap into critical thinking skills to create art inspired by the annual theme
Receive positive recognition for their original works of art
PARTICIPATION IS EASY, EXCITING AND EMPOWERING
All students attending PTA schools sponsoring the program are invited to participate and submit original artwork in one of six areas:
Dance/choreography
Literature
Photography
Film production
Music composition
Visual arts
Artworks are submitted first to school-level PTAs, where they are first recognized, celebrated and judged by five grade-level divisions, while a non-judged Special Artists division celebrates student artists with special needs. School PTAs then choose a selection of entries to be judged by local PTA units, which are then sent on to councils and then districts for consideration. The final artworks submitted to California State PTA by districts are then considered for Awards of Excellence or Awards of Merit. Award of Excellence entries then go on to represent California in the final National PTA judging round.
Divisions (5)
To allow student artworks to be recognized and judged with the appropriate developmental age and skill levels in mind, the Reflections Program is organized by school grade, offering 5 divisions:
Primary – Preschool-Grade 2
Intermediate – Grades 3-5
Middle/Junior – Grades 6-8
Senior – Grades 9-12
Special Artist – Non-Graded
State-level Award of Excellence honorees receive:
The opportunity to showcase their artwork at the California State PTA convention
Prizes including an Award of Excellence medal, certificate and $100 Savings Bond presented on stage at convention
An expense paid trip for the award-winning student and one parent/guardian to convention
National-level Award of Excellence honorees are recognized at the National PTA Convention, plus their artworks are featured in Reflections' popular traveling national exhibit.
View the 2019 Reflections Award Recipients!
National PTA is looking for the theme for future Reflections programs. Students can submit their theme ideas online or on paper: http://capta.org/programs-events/reflections/theme-search/