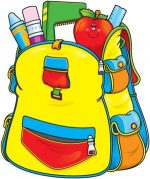 Today's virtual backpack includes:
February PTA Newsletter – click here
Box Tops Spring Collection Flyer
Yearbook Sponsorship Flyer
Yearbook Pawprints Order Form
Yearbook Order Form
Jog-A-Thon Flyer/ Volunteer Sign Up – click here
Jog-A-Thon Pledge Form and Permission Slip – click here
It's a busy time at Apperson!  Be sure to read the Apperson PTA newsletter to stay up to date on all that is happening.  The Jog-A-Thon is just around the corner – next Friday to be exact!  Start collecting pledges now and turn in all donations by Friday, February 10th.  Friends and family can also make a donation online at www.appersonpta.com – look for the "Sponsor a Jog-A-Thoner" link at the top of the page.  Make sure to sign and return the permission slip so that your child can participate in this fun event with his/her class, regardless of the amount of donations collected.  If you would like to volunteer at this event, please return the volunteer slip – a district volunteer badge is required.
Please join us for this month's PTA meeting on February 16 @ 8:15 am – we will be holding elections for next year's PTA board.  We hope to see you there!
Yearbooks are on sale now – the first 50 books are going fast and will most likely be sold out by tomorrow.  The rest of the books will be sold for $25 each and include free personalization through February 24th.  It's also time to order your Pawprints for the yearbook – we have many options to choose from!  See the flyers for all the details.