Today's virtual backpack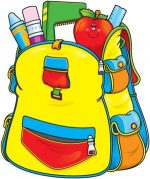 includes:
Halloween Costume Flyer – donations needed!
School Beautification Day *Tuesday, September 27*
(please note the correct date is this Tuesday, Sept 27 not May- oops!)
Teacher Luncheon Flyer – please let us know ASAP if you are able to donate food for the Teacher Appreciation Welcome Back Luncheon!